---
Dog Grooming Kit Pet Hair Clipper


Professionally groom your pet in the comfort of your own home with the dog grooming hair clipper set! 
The dog and cat grooming clipper set is convenient to use. With the adjustable knob and different clipper heads, you can groom your dog or cat according to taste, with ease.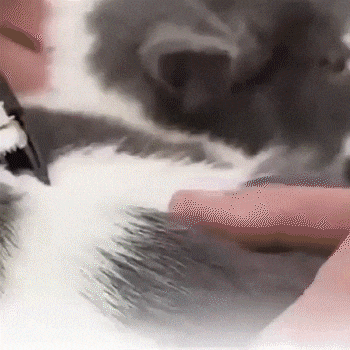 The pet groomer set is made of high-quality material with one switch operation. The pet hair clipper has a high-speed motor that works at only 40db, which provides comfort to your pet throughout the grooming process.


Trim your pet's hair without spending money on pet grooming appointments! The 30°acute angle ceramic moving blade with upgraded titanium fixed blade helps to trim your pet's without hurting the skin. Also, the R-shaped designed edge helps to prevent accidental injuries while cutting the hair.


For endless grooming to your pet dogs at any time, anywhere! This grooming clipper set is equipped with a long-lasting rechargeable battery which ensures you groom your pet at any time, anywhere. The kit comes with a USB charging cable for charging the device conveniently.


This dog grooming clipper set is the perfect tool for use at home or professional pet salon. It is an ideal gift for dog lovers, pet lovers, animal enthusiasts, and anyone who loves to groom their pets.
Features:
SUPERIOR-QUALITY MATERIAL: The pet groomer clipper set is made of superior-quality material. It is lightweight, portable, durable, sleek, and comfortable to handle. The kit comes with a brush for easy cleaning.
POWERFUL 3.7V MOTOR: The functional cat grooming clipper set is equipped with a high-speed rotating 3.7V powerful motor. It doesn't produce noise which helps to groom your pet with ease.
ADJUSTABLE BLADE HEIGHT WITH CHANGEABLE CLIPPERS: The pet clipper set has five levels of length tuning knob to adjust the blade height to cut the hair precisely. The blade can be equipped with four different clippers according to your need.
TWO-WAYS OF USE: The dog grooming clipper set can be used as cordless after a full charge. It is helpful for the free movement of grooming your pet. It also works safely while charging and doesn't stop working.
LI-POLYMER RECHARGEABLE BATTERIES: The pet dog grooming set has a long-lasting Li-polymer battery. It is fully charged within 3-4 hours and working for 120 minutes. It has a convenient USB charging cable to charge in the power bank, car adapter, PC/computer, USB adapter.
Specifications:
• Input Power: 100V-240V 50/60Hz
• Dimension: 45*175mm
• Charging time: 4-5 hours
• Using time: 60-70 mins
• Net weight: 650g
• Color: gold
• Power cord length: about 175cm
• Accessories: 3mm, 6mm, 9mm, 12mm Limiting combs (used for adjusting hair length), an adapter, a cleaning brush
Package Includes:
• 1* Electric Clipper
• 1*USB Data Cable
• 1* Cleaning Brush
• 4* Limit Comb 
• 1* Manual
---
Standard Delivery
Unless alternative delivery is stated above, our typical delivery time is between 5 - 10 business days to the UK and to Europe, USA, Canada and Australia. For any other countries, delivery times are between 2-4 weeks.

We ship worldwide and use fantastic couriers, including: FedEx, DHL and Royal Mail - depending on your location and the fastest available service.
All orders are shipped with a unique tracking number, so you can track your order at every step of its way to you!
30 Day Easy Returns Policy
Your satisfaction is our top priority.
If you're not happy with anything to do with your order, simply let us know you'd like to return your product within 30 days of purchase and we'll issue you a full refund.
Customer Support
We are proud to offer outstanding customer service through our 24/7- 365 email support!

Any queries? Just get in touch with us by email at: hello@fortunashop.co.uk - we're always here to help or have a chat.