---
Home Surveillance Mini Hidden Spy Camera
Looking for a mini spy camera for surveillance on your home or office? Our wireless spy camera is equipped with a 1080P HD lens, motion detectors, and six infrared lights. With these features, you can get a clear picture & video of your home or office both day and night.
Thanks to the 150-degree viewing angle, the mini hidden camera covers a wide area to give you a complete picture/video. The spy camera has a magnet inside to stick on any metal surface. The mini size and lightweight design make it easy to hide your surveillance camera anywhere such as home, automobile, office, etc.


Don't worry about the 24x7 monitoring! This spy mini camera always records the video by default. If the camera detects any movement, it will automatically send a notification to you. Also, you can set a specific time to record the live footage.


This full HD 1080P small spy camera features a hotspot function that is easily connected to wifi through the app to monitor the live footage from anywhere. This means whether you're abroad or away from your home and office, you'll be able to monitor at any time.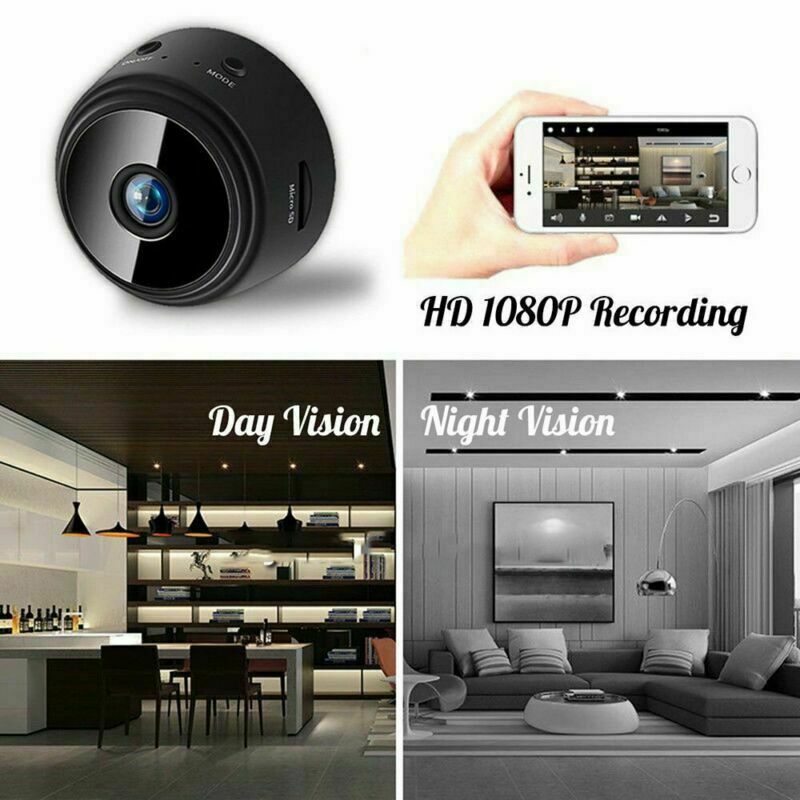 You never miss single footage! This surveillance camera is always watching and recording! The compact HD spy camera automatically records the live footage over the oldest footage when the SD card is full.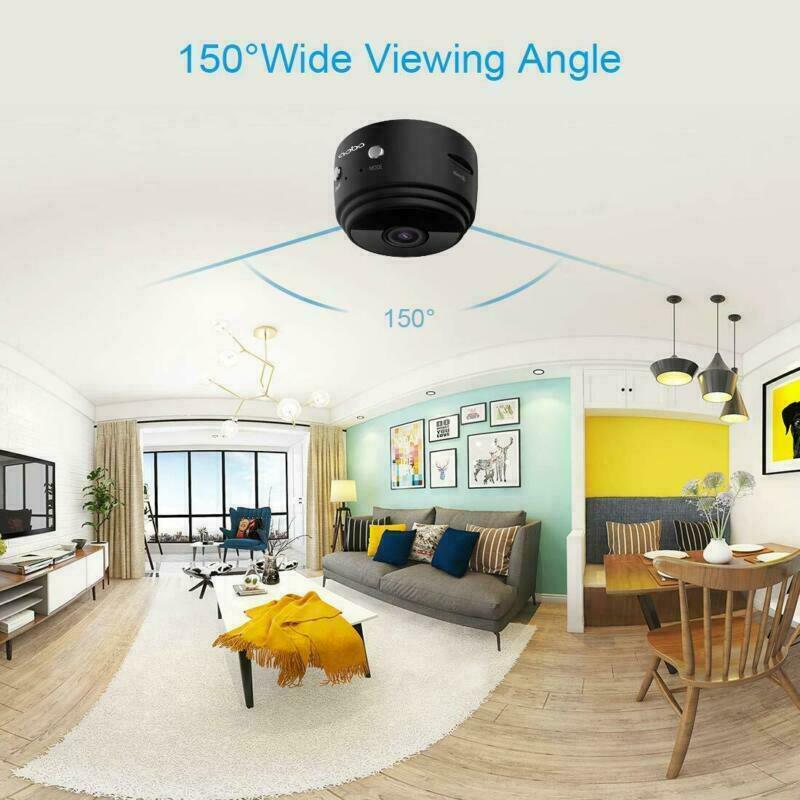 Features:
FULL HD 1080P WIRELESS CAMERA: Our wireless mini camera is equipped with high definition lens that gives full HD 1080P pictures/videos. The 150° angle ensures a wide range of view angles and a built-in rechargeable battery for uninterrupted monitoring.
MULTI-FUNCTIONAL SPY CAMERA: The portable spy camera features a multi-functional design. It functions with video, picture, motion detection, infrared night vision, loop recording, magnetic, and many more.
NIGHT-VISION & MOTION-DETECTION CAMERA: The compact spy camera is equipped with six infrared lights to record/capture the visuals in low light conditions up to 16 feet. When the camera detects movements, it will automatically send a notification to your phone.
CONVENIENT TO CONNECT & USE: The small HD camera has an in-built hotspot that is connected easily to a wifi network through the HDmini cam app. It helps to monitor the live footage from anywhere. The magnetic back of the hidden camera makes it easy to stick on the metal surfaces without any screws.
WIDE RANGE OF USE: This mini hidden camera is suitable for indoors/outdoors at day time and night time. It is ideal for surveillance of homes, offices, restaurants,  etc.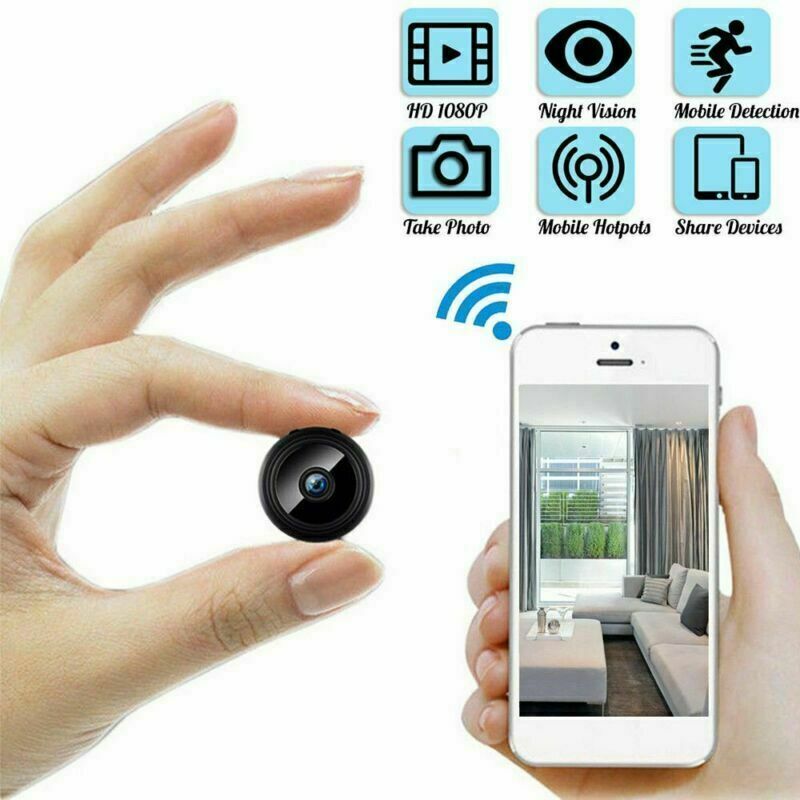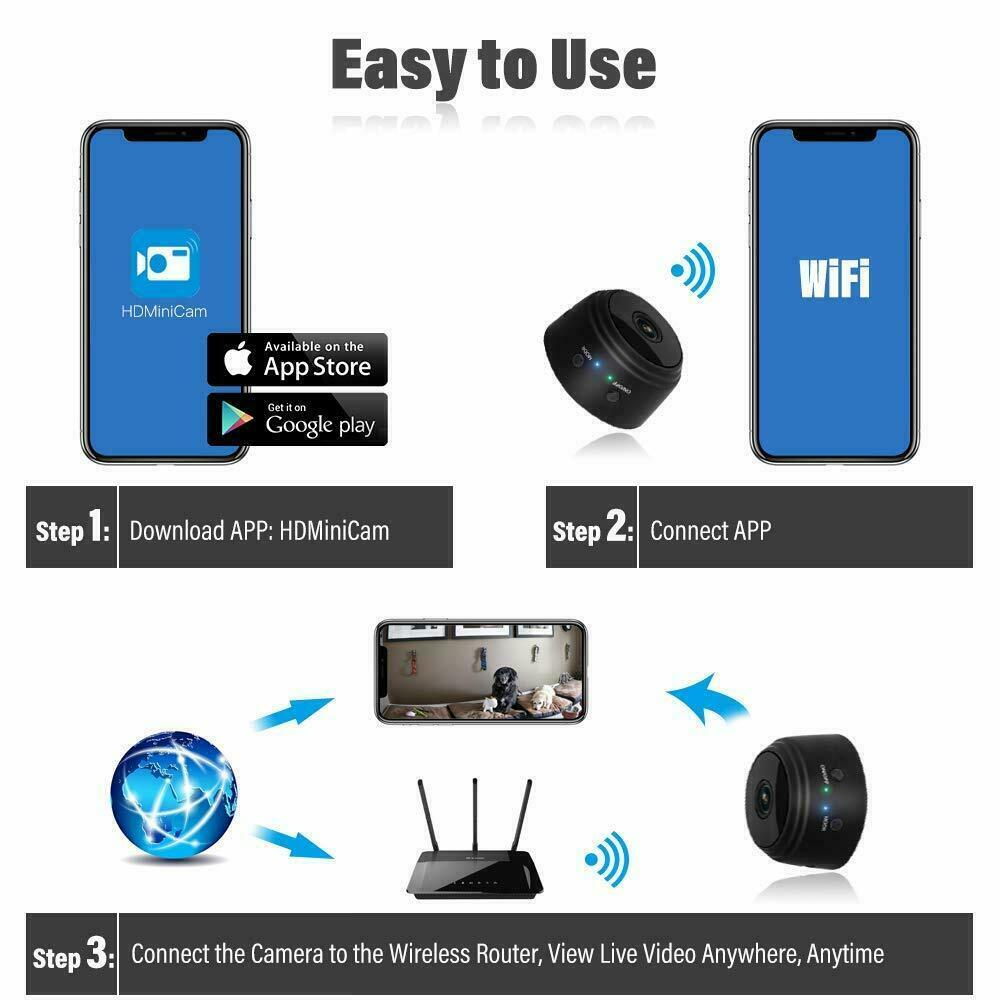 Package Includes:
1x IP WIFI Camera
2x Cables
1x Bracket
1x Gasket
1x English User Manual
---
Standard Delivery
Unless alternative delivery is stated above, our typical delivery time is between 5 - 10 business days to the UK and to Europe, USA, Canada and Australia. For any other countries, delivery times are between 2-4 weeks.

We ship worldwide and use fantastic couriers, including: FedEx, DHL and Royal Mail - depending on your location and the fastest available service.
All orders are shipped with a unique tracking number, so you can track your order at every step of its way to you!
30 Day Easy Returns Policy
Your satisfaction is our top priority.
If you're not happy with anything to do with your order, simply let us know you'd like to return your product within 30 days of purchase and we'll issue you a full refund.
Customer Support
We are proud to offer outstanding customer service through our 24/7- 365 email support!

Any queries? Just get in touch with us by email at: hello@fortunashop.co.uk - we're always here to help or have a chat.