---
Folding Portable Washing Machine
The Mini Folding Portable Washing Machine is suitable for washing T-shirt, shorts, dresses, under-garments, socks and face mask. Adopts ultrasonic turbine technology to form small bubbles, quickly disperse and emulsify, achieve deep cleaning effect and removal of stains.
With our foldable Mini Portable Washing Machine, you can easily load 0.7lbs of clothing, then fill it with water, set a timer and you can now start washing. It will save you energy and money. Plus, it has a powerful suction cup, so you don't have to worry about it shaking around.
FEATURES AND BENEFITS:
Easy To Use - User friendly, you can just add your clothes, add water and detergent and you can easily set the machine for washing. 
Compact And Light - Because of the compact and lightweight design of our portable washing machine, it is ideal for places where space is limited, e.g. for camping or in a caravan.

Washing And Spin Timer - When washing cycle for normal or soft laundry would usually take up to 15 minutes, and the spin cycle can take up to 5 minutes, which basically means that when you are washing your clothes much more faster.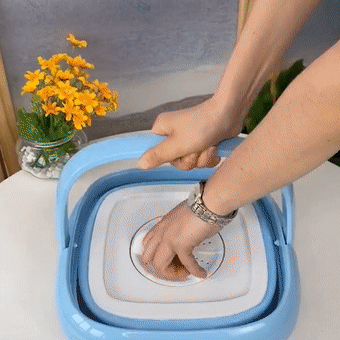 PRODUCT SPECIFICATIONS:
Material: ABS + PP + TPR
Forward Reverse Loading: 200 RPM

Forward Reverse Time: 15 seconds

Interface: USB

Input Voltage: DC 5V

Input Current: 3A

Turbo Working Time: 5 minutes switching

Ultrasonic Working Time: 60 seconds switching

Rated Voltage: DC 10V

Washing Time: 30 minutes

Folding Size: 320 x 320 x 55 mm / 12.60 x 12.60 x 2.17 inch

Unfold Size: 320 x 320 x 240 mm / 12.60 x 12.60 x 9.45 inch

PACKAGE CONTENTS:
1 x Mini Portable Washing Machine
---
Standard Delivery
Unless alternative delivery is stated above, our typical delivery time is between 5 - 10 business days to the UK and to Europe, USA, Canada and Australia. For any other countries, delivery times are between 2-4 weeks.

We ship worldwide and use fantastic couriers, including: FedEx, DHL and Royal Mail - depending on your location and the fastest available service.
All orders are shipped with a unique tracking number, so you can track your order at every step of its way to you!
30 Day Easy Returns Policy
Your satisfaction is our top priority.
If you're not happy with anything to do with your order, simply let us know you'd like to return your product within 30 days of purchase and we'll issue you a full refund.
Customer Support
We are proud to offer outstanding customer service through our 24/7- 365 email support!

Any queries? Just get in touch with us by email at: hello@fortunashop.co.uk - we're always here to help or have a chat.